aqa del kon ke tazast
ba taqirati ke nimbuzz dade zade hamaro
afdorde kard
vaqti mihkay dakhele har room join beshi
azat sola mikone va u bayad javab bedi!!
in yani kare harji floodere tamum shod
ama ba ejazaton aqa saeedemun hamun rooz ke in taqirat ejra shod
ye floooder nevesh ke ba vojud in taqirat bazam roomo flood kon
khob berim to kare tozihat!!
Akse mohite barname: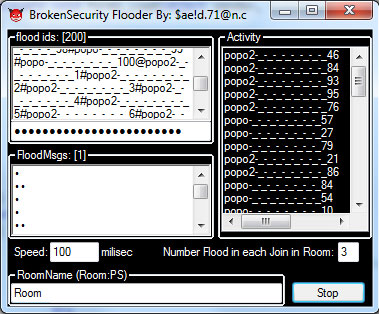 ba in barname mitunid chan model id ba passwordhaye mokhtalef estefade knid, masalan farz knid man 100ta id ba passe1 daram, va 100ta id ba passe2, hala age bekham az har 2taye in toye barname estefade knam bayad beine 100taye avail va 100taye dovomi b jaye #@ bezaram, akse ziro nga knid behtar motevaje mishid: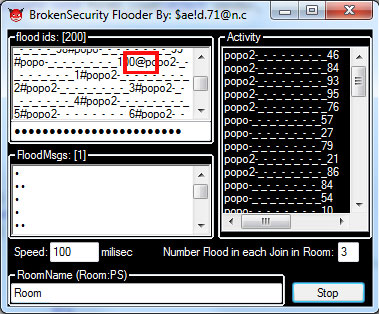 toye kadre ghermez hamintor k mibinid yeja man bejaye # az @ estefade kardam. intori nesbat b taghsim bandie id haton ba @ passworde marbot be on ghesmat az idha baraye on dar nazar gerefte mishe. baraye password ham toye ghesmate password bayad haminkaro knid, yani age az 2 model id flood estefade kardid bayad 2 model password bezarid k beineshun @ bashe, masalan inja man passe1@passe2 bayad bezaram toye Texte password, albate mitunid harcheghad k deleton mikhad az in model id bezarid, masalan ID1#ID2...@ID1#ID2...@ID1#... Pasword ham mishe: Pass1@Pass2@Pass3...
tavajoh knid age az chand model id flood estefade mknid bayad tedade @ ha toye IDha va Password yeki bashe ta har password nesbat b id khodesh entekhab she va kam ya ziad nayad.
halesho bebarin
L I N K


Last edited by manuochehr on 2012-07-04, 04:48; edited 2 times in total